Bannockburn Pinot Noir 2022
Bannockburn Pinot Noir is made from a blend of fruit grown on our established vineyards; the oldest vines planted in 1976 through to the more recent 2007 planting. Primarily MV6 with some 114, 115 and 777 clones, the 2022 release includes fruit from both close planted and conventionally trellised vineyards.
Minimum Order 6 Units (straight or mixed)
Viticulture

Winemaking

Tasting Notes & Reviews
The 2022 growing season started out with substantial winter and spring rains due to La Nina but dried out around Christmas and into the new year. A warm January and February led to a very consistent and well-paced ripening period, The Pinot Noir crop was made up of average yields, but small bunches of good concentration and intensity and was of very good quality over a two-week period between 15th March – 30th March.
Handpicked parcels of fruit from our different blocks were wild fermented separately with approximately 20% whole bunch overall including a portion of carbonic maceration. After pressing the wine was racked to a combination of hogsheads and puncheons of which 20% was new oak. The wine was left undisturbed for 10 months prior to blending and bottling.
As reflective of the cooler growing season in 2022, this is a lighter and brighter expression of Bannockburn Pinot Noir. Displaying pure red fruits, aromatic spices, subtle use of whole bunch and oak seasoning, and a moderate tannin finish.

95+ points. I really like where the Bannockburn wines are at right now. I guess that you'd call this light but its length and general insistence is right up there. Indeed over the course of 24 hours this just built and expanded in the most impressive of ways. It's a minerally pinot noir, smoky and spicy, with red cherried flavour run through with herbs and twigs and undergrowth. In its infancy, now, it somehow manages to be quite remarkably complex; it will only add from here. Certainly it's light but this is an outstanding pinot noir. Campbell Mattinson, winefront.com.au.

Print Spec Sheet
2023 Vintage
The 2023 growing season started off cold and wet. For the first time since 2011 our dam was full, and in fact overflowed for most of October and November (rainfall for the calendar year of 2022 was 800mm). Budburst was slightly behind average timing, but crops were down significantly: the bunch counts were low in the first place, we had a mild frost in September and the wet weather finally caught up with us via downy mildew. The rain stopped at the end of December.
The overall heat accumulation was the same (1338 Growing Degree Days) as 2021, both seasons on the slightly cooler side of average but differing in that the heat for 2023 was more toward the second half of the season. Veraison occurred in February and then we picked Chardonnay, Pinot Noir, Gamay, Sauvignon Blanc and Riesling in March, and Shiraz and Cabernet/Merlot in the first week of April. The picking weather was pleasant and the fruit arrived at the winery in very good condition.
While quantity was down (especially in Pinot Noir) quality was good: fresh acidity, concentration, colour, tannin and steady fermentations have us looking forward to bottling, and seemingly warmer and drier seasons as El Niño returns.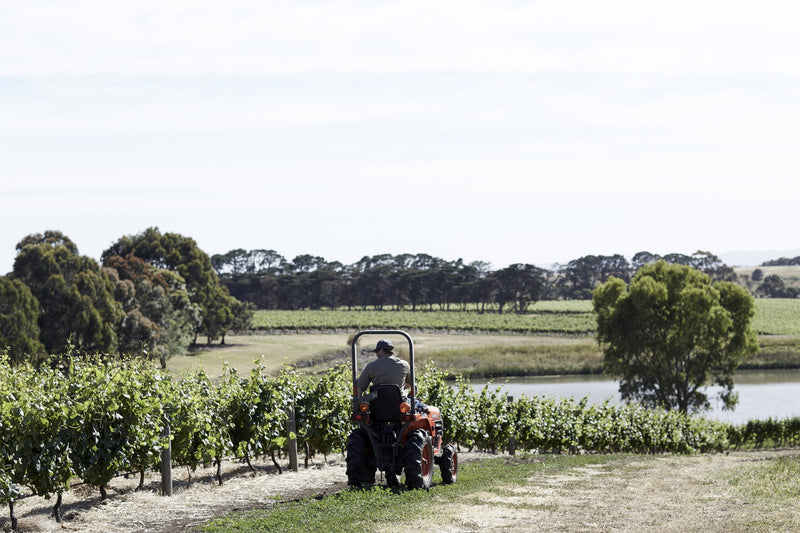 Stay up to date with news, events and impending new releases from Bannockburn Vineyards.