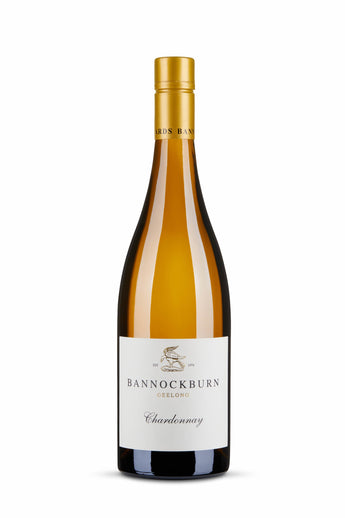 Bannockburn Chardonnay 2022 Magnum
The estate bottling was made from fruit grown across all vineyard sites; Olive Tree Hill, Winery Block, Stuart Block & Kelly Lane. The oldest vines planted in 1976, through to the most recent 2016 planting.
This wine has consistently been rated as one of Australia's best Chardonnays, reflecting the ideal combination of limestone soils, cool climate and mature vines.
Minimum Order 3 Units (straight or mixed)
Viticulture

Winemaking

Tasting Notes & Reviews
The 2022 growing season started out with substantial winter and spring rains due to La Nina but dried out around Christmas and into the new year. A warm January and February led to a very consistent and well-paced ripening period, and the Chardonnay fruit was picked in very good condition over a two-week period between March 2nd - 18th.
Handpicked parcels of fruit were whole bunch pressed, settled over night, and racked to barrels for a wild yeast fermentation in a combination of French hogsheads and puncheons; approximately 20% was new oak. Malolactic fermentation occurred on 70% of the blend, with the remainder blocked. The wine was left on lees unstirred for 10 months prior to blending and bottling.
A core of fresh citrus acids, stone fruits, minerality and mouth filling texture are always components of this wine. Subtle winemaking inputs and the generous flavour of our site offer a classic expression of Bannockburn Chardonnay.

95 points. Complex, nutty, mealy aromas entwined with grapefruit pith, nougat, melon skin, white flowers and bacon fat, really sophisticated and enticing. The palate has lovely weight, concentration and purity. There's layers of white stone fruit, citrus pith, nuts and cream. There's power and drive of flavour, but there's also an inherent lightness and brightness. A seamless chardonnay. Aaron Brasher, therealreview.com.
94 points. Grown on a range of vineyards across the Bannockburn holdings, from 1976 plantings through to the most recent (2016).Pure fruit, perfect balance, lots of length. It will need time to build complexity but everything here appears to be in excellent working order. Pear, apple, grapefruit and white peach flavours come littered with sea shells and smoky, cedarwood oak. Nothing is overdone; everything glides along. Campbell Mattinson, winefront.com.au.
Print Spec Sheet
2023 Vintage
The 2023 growing season started off cold and wet. For the first time since 2011 our dam was full, and in fact overflowed for most of October and November (rainfall for the calendar year of 2022 was 800mm). Budburst was slightly behind average timing, but crops were down significantly: the bunch counts were low in the first place, we had a mild frost in September and the wet weather finally caught up with us via downy mildew. The rain stopped at the end of December.
The overall heat accumulation was the same (1338 Growing Degree Days) as 2021, both seasons on the slightly cooler side of average but differing in that the heat for 2023 was more toward the second half of the season. Veraison occurred in February and then we picked Chardonnay, Pinot Noir, Gamay, Sauvignon Blanc and Riesling in March, and Shiraz and Cabernet/Merlot in the first week of April. The picking weather was pleasant and the fruit arrived at the winery in very good condition.
While quantity was down (especially in Pinot Noir) quality was good: fresh acidity, concentration, colour, tannin and steady fermentations have us looking forward to bottling, and seemingly warmer and drier seasons as El Niño returns.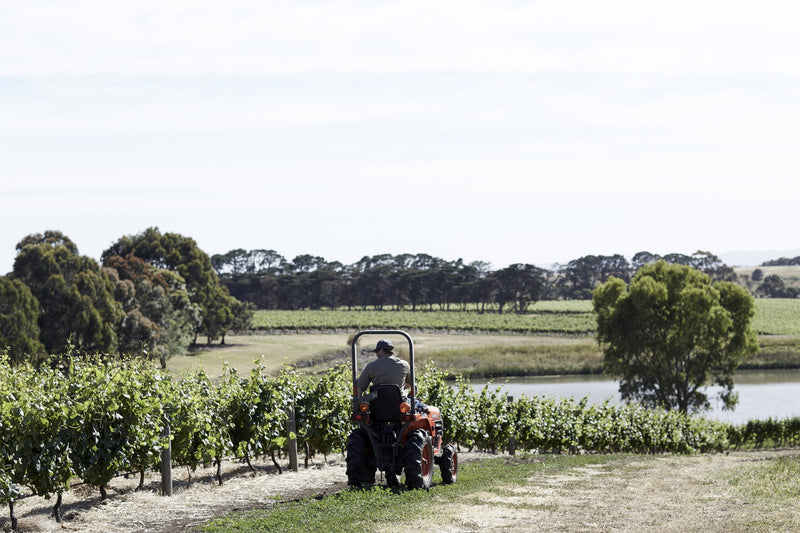 Stay up to date with news, events and impending new releases from Bannockburn Vineyards.